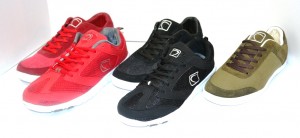 While the other companies are attempting to capitalize on the upcoming Black History Month by creating a multitude of shoes in loud and heritage based colorways, I'm simply trying to continue the momentum ARCH has made over the last few months. If you've followed the blog, then you know that we have done okay for the little engine that could. To show my appreciation, I'm attempting to do something that is big for ARCH. Since I'm Black, every month is Black history month (I know that's kind of corny, but it's true). I want everyone to have a chance to share in our companies growth and history.
From today through February 28th I am selling the ARCH CG097II at the original price of 60.00. Now, I've sold the shoes at 30,35, and most recently 50.00 with Free shipping. As a price breakdown, it costs me 15% to Amazon when I sell the shoe, shipping costs about 12.00 for expedited shipping. It costs me 30.00 dollars to make the shoe and since I included a free tee shirt or Rumbatime watch, I haven't made any money. I am not saying this to gain sympathy. I'm giving you the hardcore, honest facts. The increase to 60.00 still has FREE shipping, but over the next month, when you purchase the shoes on Amazon you can pick a pair of ARCH Casual shoes and they will be FREE! This is a 100.00 value, which I think is still a great deal and still creates the best price point on the market for minimalist footwear.
I hope that you will join in my celebration of Black History Month, by moving forward and supporting small business. It just so happens that it's an African-American small business 🙂
Stay Motivated
Chris B.
OKAY BIG EDIT!
Instead of a Buy One Get One Free Thank you sale with Free shipping, I'm going to do the serious blowout thing. I'm going to drop the price of all ARCH Footwear to 25.00 plus shipping. Okay, back to your regular scheduled program… Hey, I can do these kinds of things right? 🙂