Shop Under Armour Baywatch FREE SHIPPING available in US
Source: Baywatch
A few weeks ago I stated that although The Rock Delta launch was successful that Under Armour missed a prime opportunity to further strengthen their branding and marketing. The Fate of the Furious dropped and UA had their superstar front and center. It was the perfect time for a "quickstrike" styled launch of an Under Armour product for the brand. It was also a great time for cross promotion with an athlete utilizing keywords that hinted at the connection between sport and entertainment.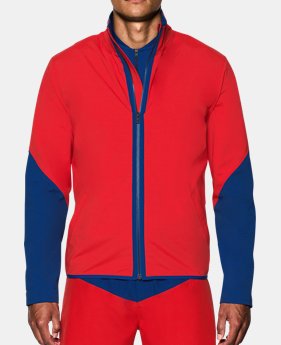 Under Armour missed that moment, but they didn't miss this one. Baywatch, featuring The Rock, will drop on May 25th. UA has already begun a social media push and a launch of the items that will be featured in the film. I do think the hashtag #BAEWATCH is not a smart thing to do. That should be left to the film marketing crew.
There should however be some connective tissue between a slide and the apparel. As of right now there is just a collection of tees, tanks and boardshorts. There is a flip-flop shown in the pictures, but not a slide that is being made available. Last year during the October conference call that led to the meltdown of Under Armour's stock Plank announced that the brand would be spending more on advertisement. I've been writing a lot about that lack of marketing spend. I ran an article on how little the brand put behind the Curry 3 and I showed a direct correlation to the sales of the Curry line to the amount of marketing created around the line.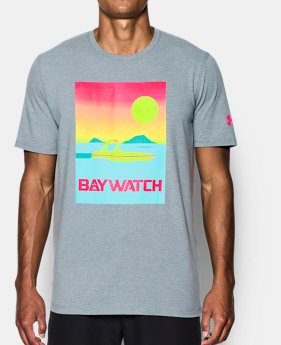 Here is a moment where UA is actually getting it right and the tees aren't bad. I really appreciate the effort and time that the brand is placing into delivering content. Their Facebook page is active with a lot of great product. While the "sneakerhead" market may not care for or support the brand, that is not the core market for Under Armour. Promoting boxing, Baywatch, Mother's Day and how athletes look and perform better is where Under Armour shines and if they continue to do this type of promo and work and leave the Hip-Hop influencers out and dive into working with smaller websites (like mine … hey you gotta put it out there), they will get better results for their money.
The Baywatch collection is actually very cool and has a retro vibe … there should definitely be a Slingflex multicolor Threadborne release with the UA logo embroidered, but it may be too late to drop something like that in this short of a notice, or is it?