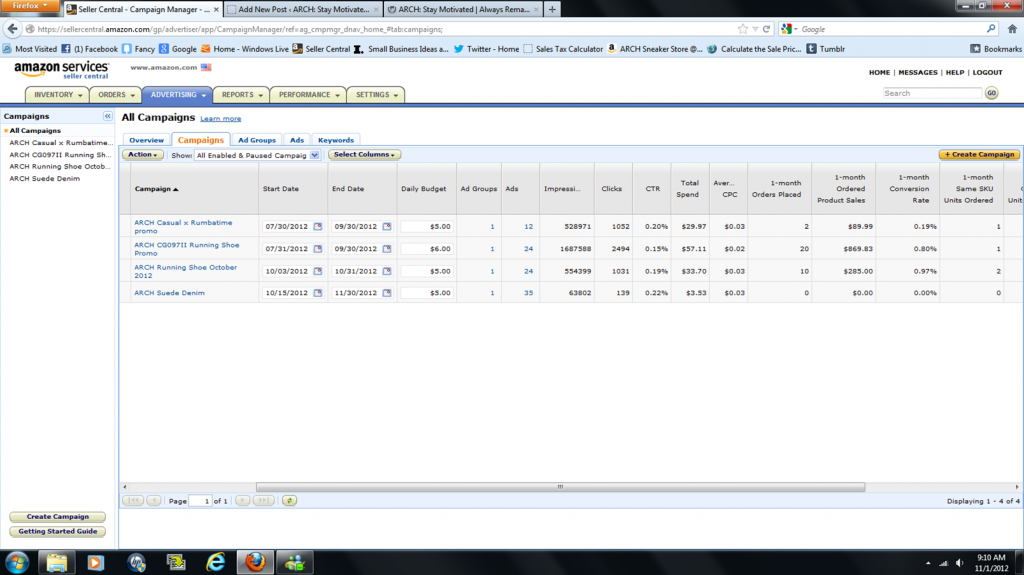 For those of you who are following these, I hope you are getting a better understanding of the work involved in attempting this shoe business. I guess it's not an attempt, I'm doing it… just not very well. Here is the marketing breakdown for October. Please note the start dates for the ARCH Casual: The Allen Suede & Denim Collection vs the continuing ads for the CG097II Lightweight Running shoe that was released in August. If you are not familiar with these monthly reports, then scroll down to look at the recent articles and then read this one. I will update you on this aspect of the articles: I have decided to use Amazon Ads primarily, but I am not allowing the ads to run seamlessly from month to month. In order to see an accurate breakdown of how effective Amazon Ads are, I am ending or pausing, the campaigns at the end of each month to write these articles. I am also including a discussion on Facebook Ads in this report to show you how Facebook works, or isn't working, in this instance. First however is the October breakdown of overall sales.
Two campaigns: ARCH Casual and ARCH Running from varying dates

ARCH Casual featuring The Allen casual shoe in 7 colors. Date: 10-15-2012 to 10-31-2012
Number of ads: 35
Impressions: 63,802
Clicks: 139
CTR: .22%
Total Spend: $3.53
Average CPC: .03 cents
Orders placed through the ads: 0
Product Sales: 0.00
Conversion Rate: .0%
ARCH Running featuring the CG097II running shoe in 4 colors Date: 10-03-2012 to 10-31-2012
Number of ads: 24
Impressions: 554,399
Clicks: 1031
CTR: .19%
Total Spend: $33.70
Average CPC: .03 cents
Orders placed through the ads: 10
Product Sales: 285.00
Conversion Rate: .97%
Summary: Casual shoes are not as strong as athletic shoes. In a company as small as mine, for it to succeed I have to literally only make the shoes that sell. I can not be as diverse in my design choice. The terrible performance of the Suede & Denim and the casual shoe overall is still tied to a lack of media coverage and the lack of a popular person wearing the shoe, I can not risk the company's growth on making these shoes again. This is further reinforced by the fact that the Running shoe has sold at both a mid price point 40-70 about the same as it has at the lowend 25-30.00 price point (October price drop). So what do I do with this information? I am thinking that I continue to clear out inventory by price reduction on the Casual shoes and the summer colorways of the running shoes, while still using Amazon Ads. I maybe able to revisit casual footwear in the future, but as of right now the Allen will definitely be the last casual styled shoe I will create. My focus will shift completely to natural styled, lightweight, running and performance footwear. Which funny enough is where I started with the company initially.
Additional Information: Facebook Ads
Facebook continues to be the biggest and most popular social networking site. However, my infatuation with Facebook is diminishing after my last ad campaign. Small business people do not have the ability to dump thousands into marketing and the way Facebook works now, it simply has not helped me. Starting to realize that Facebook is no longer the interaction tool it once was for small business because of the way their algorithms work. Posts no longer show up in the feeds which limits interactions with the people who like your page. I ran a Facebook ad and got 90 likes with 100 dollars. As soon as the ad ended my reach dropped 97.16 percent. My "people reached" during the ad at the highest was 160 per post. My reach per post after the ad is around 20 people reached per post. I'm thinking that any ad created for Facebook should not be pointed towards fan pages or personal pages, but towards the actual websites where a person can see your biz and make the decision to like the page.
The most telling thing I can do in regard to Facebook is to post a picture that captures how poorly my page has performed since running my campaign.
The Average CPC was .84 cents. The ad ran from 9/22/2012 to 10/22/2012. I went from 4 likes to 94 likes during this time for an average price of $1.11. The problem with this is that as soon as the ad finished my interaction and reach for buying likes for 1.11 cents has accomplished an interaction rate with only a few of those who liked the page. While this is good and I continue to use Facebook, these are very bad numbers. I am sticking with Facebook as my form of social media because I am familiar with it and it is easy. Social media CAN BECOME A JOB! I've chosen my platform for now. I'm still motivated and waiting on the Storm Collection to arrive, but if you don't know, now you know.
Stay Motivated Fam
Chris B.
Here is the Facebook pic note the location where the mouse is and the numbers since the ad ended on the right.