CG097II Limited Release Suede & Mesh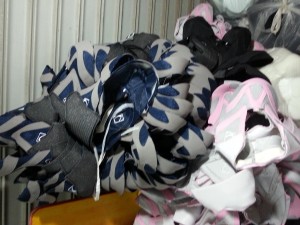 I know it's been a few weeks since I've posted. I haven't had a lot to discuss since I only have two pair of CG097IIs in stock. They were both returns from previous orders. I also only sold a few pair of the Allen casual shoes, so I don't have a large report to post. Overall it's been a pretty slow spring as I build up to getting the new colorways of the CG097IIs in stock. The production is going well and my main job is to make sure that there aren't any blemishes or damage to the shoes. My only means of doing this is to request photos of each step of the manufacturing process.
In other words, enough talk from me. Here are the first photos from China. The shoes are being assembled by the sewers and getting ready to be attached to the uppers. These are not the best pictures, but in them you can see the pink shoes actually have numbers written on them. What I am trying to prevent is the shoes being shipped with those marks. It takes a long time to clean the shoes and QA them which ultimately affects the price point if the shoes look damaged. I am looking to move the cost of the shoes up to a retail price of 59.99 with free shipping. The only way I can accomplish this is if the shoes are shipped in perfect condition. If not the price point will remain low.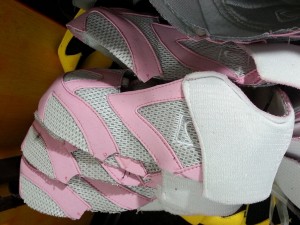 I truly appreciate the interest being shown in the brand. It is difficult to remain relevant when there isn't anything available for those looking for a specific style. I hope that you will check back often and visit the ARCH Online Store to check out current inventory of not only ARCH Branded Footwear, but other brands as well.
Stay Motivated
Chris B.