News that the Curry 4 would be dropping this week came as a surprise to me. News that the Curry 4 will be dropping internationally first was also a surprise. I've complained about the lack of marketing and the failure to capitalize on Curry's second championship as a huge mistake by an apparel company that appears to be dabbling in footwear. What I mean by dabbling is that Under Armour has not taken footwear as seriously as they should considering the incredible growth opportunity for the brand in North America and abroad.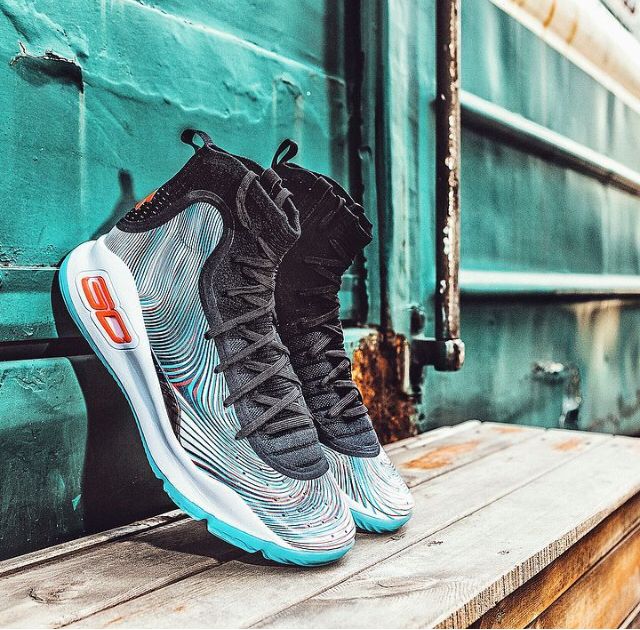 The Curry 4 China has been getting an incredible response, and this has been expected. The moment the 4 appeared during the Finals it had a lot of traction. UA didn't do anything to profile the future of the shoe. They didn't begin a slow roll out of information to build anticipation for the model. They didn't create a pack to celebrate the championship. The brand completely disappeared missing a prime opportunity to regain some momentum with the Curry line. This was par for UA. If you read this post you will understand why I said the brand has been dabbling:
The article above gives a breakdown of the amount of marketing and video created to promote Curry since the first shoe released. If the trend continues I expect that UA won't make any video marketing or story telling for the line. Why would I say this? The Curry 1 had over 16 campaigns; the Curry 3 had 1. The Curry 4 has just been introduced and will release this week in China and there hasn't been any marketing or advertising of the shoe anywhere. There isn't a splash page on the site. Curry doesn't have a banner on the site and finding his page isn't immediately available. There is minimal information via social media and without news outlets we wouldn't have any idea that this drop was taking place and that's a damn shame. The Curry 4 is literally the best looking shoe created for the superstar and UA hasn't created a narrative or storytelling around basketball. Could it be that performance is so far down that it doesn't make sense? NO. Under Armour does not have a classic or retro so all they have is performance. The energy should be there.
There was a question posed and I've moved away from it: Why is the Curry 4 releasing in Asia first? Watch this video
In America fanaticism amongst millennials is relegated to entertainers and social media influencers. Sports stars no longer carry the element of worship that sells shoes. In North America kids no longer play sports to compete and earn spots on their neighborhood varsity teams. Kids can't even make their high school teams without playing year round and their parents spending absurd amounts of time and money on their participation. The professionalization of sports has killed the "star who comes out of nowhere." With that narrative dying and kids no longer admiring or desiring to be the next great athlete, performance footwear has taken a backseat to fashion. Under Armour can't compete with adidas and Nike in a retro and fashion driven market. More important here is the growth in Asia vs North America:
Quarter Ended June 30,

Six Months Ended June 30,

2017

2016

% Change

2017

2016

% Change

North America

$

829,805

$

827,132

0.3

%

$

1,701,076

$

1,707,727

(0.4)

%

EMEA

103,896

66,193

57.0

%

206,751

132,460

56.1

%

Asia-Pacific

93,574

49,553

88.8

%

179,392

103,175

73.9

%
The growth in Asia is extraordinary and in the last quarter it is barely scratching the surface of the numbers the brand can reach with the opening of its retail outlets there. Watching Curry in Asia video is a revelation. Under Armour hasn't exactly given up on North America, but placing an emphasis on a market that isn't very reliable, a market that looks to make a joke about its footwear, doesn't quite make sense.
Is it a mistake? I definitely think it is. Under Armour has a narrative, a story, a branding opportunity in basketball that is the UA story. It's the story of the underdog. It's a story that could connect to those kids who no longer feel that they have an opportunity. It's a story that adults would be attracted too… the question remains will UA get to work? If the lack of info readily available about the Curry 4 is an indication, probably not… and that's unfortunate.