Shop Under Armour for Men's UA Project Rock Delta Training Shoes in our Men's Shoes department. Free shipping is available in US.
Source: Men's UA Project Rock Delta Training Shoes | Under Armour US
It doesn't matter if this shoe was limited in this first release. It has to be a serious confidence booster for investors that a drop via the UA platform actually sold out immediately. Now, this returns everyone to the discussion on athletes over entertainers as endorsers, but The Rock presents an interesting situation. He's an athlete and an entertainer. As one of the highest paid actors in Hollywood his profile couldn't be higher and this has obviously translated into an interest for his footwear and Project Rock apparel.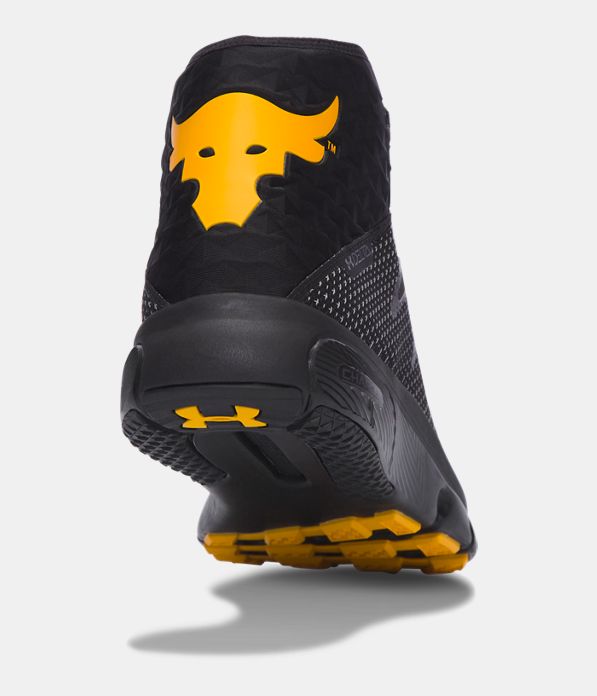 The shoe is back to the basics for Under Armour. The shoe is all about performance and training. Here are the specs
Product DNA
Under Armour + Dwayne "The Rock" Johnson​ have one focus & one focus only: Relentless Inspiration
Breathable mesh fabric with seamless construction is both lightweight & durable
Reflective detailing for superior visibility in low-light conditions
Molded heel cup offers a form-fit that keeps the foot from sliding
Ribbed ankle collar provides a snug, bootie-like fit with an extended cut & unparalleled support
Soft foam inside ankle collar stays comfortable against inside of heel & ankle
Lacing system features deeply cut eyestays built to move freely with the foot
Two-piece Charged Cushioning® midsole pairs a soft, plush layer of foam on top of a layer of dense, harder foam for the ultimate blend of support & comfort
Solid rubber outsole covers high impact zones for greater durability with less weight
Deep flex grooves provide extra flexibility where you need it most
Offset: 10 mm
Weight: 10.8 oz.
Imported
Right now the shoe is on backorder until 8-17. I think this is an interesting tactic, but I find that this is a case where the marketing team is failing once again. The Fate of the Furious drops this month. The film will undoubtedly perform well and if I'm Under Armour marketing, you launch a film version of the shoe instead of waiting 5 months. Interestingly enough the shoe sold without any major marketing from Under Armour, but this only shows the reach of the Rock via social media. He has one of the biggest Instagram pages and he is constantly updating the page with information. The video of the The Rock "Hitting the Quan" on Facebook garnered 36 Million views. He was rocking Under Armour in the video.
This may not be a commercial release, but it's an important success for the DTC of Under Armour and with a conference call coming up on the 1st Quarter of 2017 it will undoubtedly be a high point for the UA team to promote.
Use this link to grab the Delta on eBay and the Project Rock gear.
Source: Men's UA Project Rock Delta Training Shoes | Under Armour US